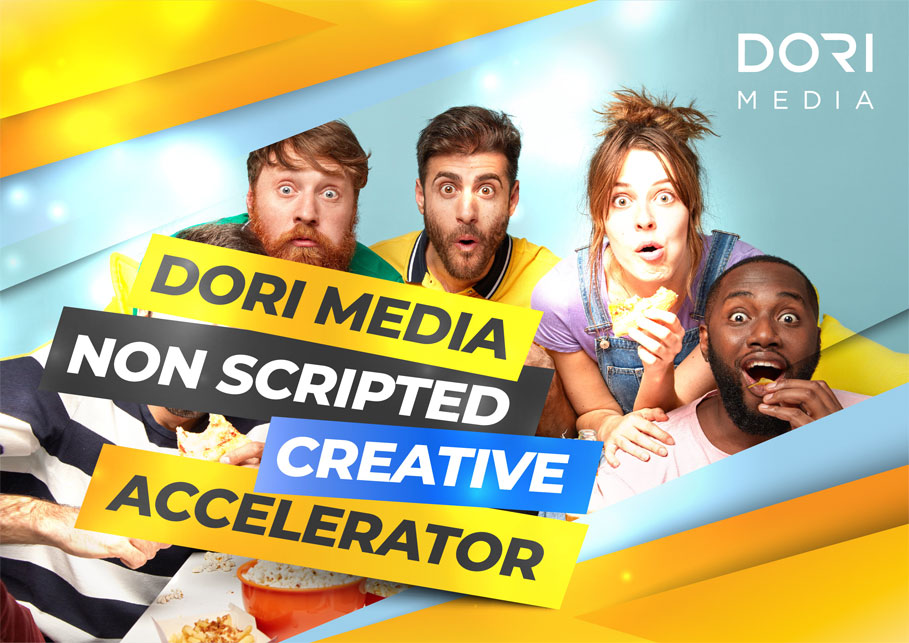 What is Dori Media Accelerator? 
The Dori Media Accelerator is a unique and intensive program for the development of Non-Scripted TV formats. The program focuses on turning unrefined ideas into fully polished paper formats, for the international market.
Our first Accelerator round was launched in September 2020. Over 150 creative teams from Israel submitted ideas, after which six projects with global commercial potential were selected, following a rigorous evaluation process.
What makes our approach unique?
Our Accelerator model was designed to boost format development that traditionally takes a long time. Simply put- our approach allows us to develop new products relatively fast, in order to reach new markets as quickly as possible.
The program's participants are all talented creators (15 people/6 teams, chosen from over more than 400 creators), that do not necessarily belong to the TV industry mainstream, but rather were chosen due to the originality of their ideas, their high level of motivation and their strength when working as a team. The creative teams work together as a peer review group, accompanied by close professional mentorship of Dori Media's content, marketing and sales teams. At the conclusion of our first Accelerator in the beginning of March 2021, the creators presented their fresh paper formats to senior global TV executives, at a closed pitch event.
About the Program Team:
Dori Media's Accelerator model was developed by Michal Ben-David (PhD), who also facilitated the creative process, mentored and worked with the teams. Michal is a TV veteran consultant and trainer, with 25+ years of experience in prime-time television. She engages in training creators and industry executives, while searching new ways to boost creative development in TV.
More about Michal, see: www.michalbendavid.com
The Accelerator program is headed by Mr. Givon Snir, Head of Content, Dori Media International. Givon has extensive industry experience of over 25 years as a producer, entrepreneur and director and has led major prime time projects on various channels in Israel.
Meet the creators and projects
---
Accelerator Team:
Head of Content, Dori Media International: Mr. Givon Snir
Accelerator designer, facilitator and mentor: Dr Michal Ben-David
Producer: Tami Green