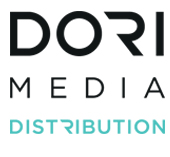 Dori Media Distribution is the biggest distribution company in Israel with a very diversified catalogue including all genres: dramas (weekly and daily), comedies, entertainment, reality and docu-reality as well as kid's programs.
DMD distributes approximately 7,500 Episodes, more than 7,000 3 minute clips, 120 – 9 minute webisodes and around 556 1-5 minute cellular episodes of Telenovelas and daily series that it sells to a wide variety of audiences in more than 100 countries.
With offices in Switzerland, Israel, Argentina Spain and Singapore, we do not only distribute our own shows but were also chosen by other production companies and format owners to act as their distributor in the international market.
Our distribution catalogue includes international hits such as "Be' Tipul" (In Treatment), "Lalola", "Rebelde Way", "Ciega a Citas", "Smart Face/ Lo Sabe No Lo Sabe", "Power couple", "Losing Alice", "Dumb", "Normal" etc.